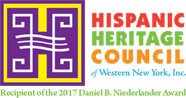 5th Annual Community Breakfast, June 24, 2017
with Keynote Speaker: Sarah Norat-Phillips
Sarah Norat-Phillips is a highly accomplished business woman who has maintained strong professional and personal roots in the Western New York area, despite having moved away 20 years ago
For 12 years Sarah served as the President and General Manager of WMYD-TV in Detroit, Michigan where she was the first Puerto Rican woman to run a Network affiliated Television Station in the country. Detroit CORP Magazine recognized her for this position in 2003 as one of the 25 Most Influential Latinos in the State of Michigan. Recently, she retired from her position as General Manager for the East Central Region of Frontier Communications in Michigan.
In 2001 The Western New York Minorities in Media Organization recognized Sarah with a Lifetime Achievement Award and in 2010 she was inducted into the National Association of Television Arts and Sciences Silver Circle, recognizing her 25+ years of contribution to the Broadcasting Industry.
For those who don't know, Sarah began her Television Career right here in Buffalo, at WKBW-TV, first as the host and producer of a weekly Community Affairs program called Pueblo Buffalo, next as it's Public Affairs Director and finally as the station's Director of Programming and Operations, before moving to run her own station in Detroit.
Sarah was an undergraduate student at Buffalo State College when she became involved in the local Hispanic community. She was a co-founder of the Hispanic Media Group of Buffalo and actively collaborated with the collective of Latino writers, poets and artists who ultimately established El Museo Francisco Oller y Diego Rivera. Her artistic involvement led to her work at the community based organization, P.R.C.C. (The Puerto-Rican - Chicano Committee). During her tenure at P.R.C.C, she helped create the leadership committee that ultimately merged 3 smaller community organizations into Hispanos Unidos de Buffalo (H.U.B) and Sarah is proud that, despite facing its fair share of challenges over the years, H.U.B. continues to be the premiere community based organization dedicated to serving the needs of Buffalo's Hispanic Community since 1989.
Sarah's daughter Carmen, who is currently a PhD. Candidate at NYU, was born right here in Buffalo and Sarah is still proud to call this community her home.
"Whatever we accomplish belongs to our entire group, a tribute to our combined effort." ~ Walt Disney