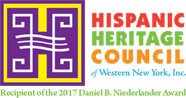 Delta Sonic Gift Cards!
Now we have a great way to support The Hispanic Heritage Council! You can purchase a Pair of $5 Delta Sonic Cards for $5! That's $10 worth of gift cards for $5, plus you're supporting the radio show!
Purchases can be made through this PayPal link:
You can call Erica Leon at 716.207.2124 with questions or for more details.
"Whatever we accomplish belongs to our entire group, a tribute to our combined effort." ~ Walt Disney