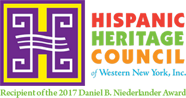 Leadership
Esmeralda Sierra
President
Esmeralda Sierra, a SUNY-Buffalo State College Masters Graduate in Public Administration in Public and Nonprofit Management has served as the Hispanic Heritage Council of Western New York, Inc. Chief Financial Officer for the past several years. She has a long history of activism in the community; VOICE-Buffalo Inc., Community Access Services, and the Near East & West Side Task Force. She was also involved as an adult advisor and teacher at Holy Cross R.C. Church, where she had held positions as president and secretary of the Parish Council.
In addition to her many community activities, Esmeralda is a member of various professional organizations. She was chair of the Cultural Competency Workgroup for the Health Equity Coalition for P2 Collaborative of WNY Inc., Co-Chair of the public relations workgroup for the Association of Multicultural Affairs in Transplantation; a member of the Erie County Caregiver Coalition, the Community Health Workers Network, American Diabetes Association Diversity Committee, and the WNY Cancer Coalition. Ms. Sierra was a former board member of Hispanos Unidos de Buffalo and Vice-President of the Puerto Rican & Hispanic Day Parade of WNY, Inc. and Pageant Coordinator of the Miss Borinquen of WNY Leadership Program.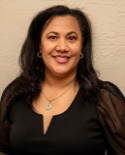 Maritza Vega
Vice President
Maritza Vega, is a past Vice President of HHC 2012-2018. Kaleida Health has been her employer for the last 20 years, She is presently a Financial Counselor Bilingual Facilitated Enroller. She has been involved in many community advocacy groups, such as Immigration Reform for America, The Puerto Rican and Hispanic Day Parade of WNY, Financial Officer, Inc. Hispanic & Friends Civic Association, Inc., Treasure, Grassroots, Inc., she is currently a participating member of the Roswell Park Cancer Institute Diversity Council, SBA Small Business Administration -SCORE, Erie County Minority and Women Owned Business Enterprises MWBE advisory board, Erie County commission of the Status of Women ECCSW advisory board. Maritza is a motivated hard worker who enjoys family, heritage and has a passion for the arts, civic engagement and bike riding. She established a bicycle group Urban Bike Riders UBR in June 2015 to keep the community and family ready to move into health and wellness. She also retired as an entrepreneur owner of the VP Home Improvement Contracting LLC construction company. Her favorite quote is "Life is for living; Love is for Giving"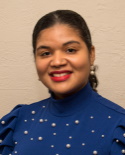 Elda Pichardo
Secretary
Elda Pichardo is a native of Buffalo she is second generation Dominican and Nicaraguan. Elda is very proud of her Hispanic heritage specially her Latina roots from her parent. A SUNY-Buffalo State College Masters Program Student in the field of Public Administration, an employee at Catholic Health as Nurse Assistant she volunteers for many community based organizations like Citizen Action, PUSH Buffalo, and The Belle Center.
Elda identifies with individuals who come from immigrant families and aspires to work hard to build the community with Hispanic awareness. She would like to encourage youth programs within HHC to embrace ethnicity, education and building leaders.
Directors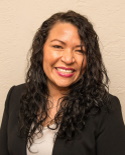 Kelly Hernandez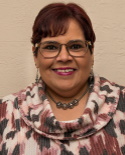 Karoll Melendez
Treasurer
Karoll Melendez born and raised in Puerto Rico moved to Buffalo with her husband and sons over 20 years ago. Being raised in Puerto Rico, Karoll wanted her children to never forget their culture and roots, she always spoke in Spanish at home so that her children will never forget their native language. She loves the music, food and everything that represent our Hispanic culture.
Karoll has been working as an Administrative Coordinator for BlueCross BlueShield for 23 years. When her sons were teenagers, she decided that it was time for her to pursue a higher education. Managing a full-time job outside of her home, plus being a wife, mother & supporting her husband's ministry, she was able to complete a bachelor's degree in Business Administration with a Concentration in Business Anthropology in 2016. But she did not stop there, she continued for few more years until she graduated with a master's degree in Business Management with a Certificate in Project Management in May of 2020.
Karoll knows that sometimes being a minority causes us to think that we cannot achieve goals, but she says she is a good example to the contrary. She believes and demonstrates that everything you want to do in your life, if you dedicate yourself to do it, you will. She wants to help kids, youth and adults of our Hispanic Community to understand that their goals are achievable and to be proud of our roots & culture.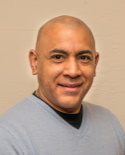 Jose L. Perez
Jose Luis Perez was born and raised in Caracas, Venezuela, where he obtained his first university degree in Computer Information System and arrived in Buffalo, NY, in July 2000. Since then, he began working as a Spanish and computer teacher in different secondary schools, high schools, colleges, and universities. He has had the opportunity to work for Buffalo State College, University at Buffalo, Tapestry Charter School, Niagara County Community College, Canisius High School, Buffalo Public Schools, and Erie 2 Chautauqua - Cattaraugus BOCES.
In January 2016, he decided to continue his education at the University at Buffalo in the Doctoral Program of the Graduate School of Education, with Curriculum, Instruction and Learning Sciences, Ph.D., in the discipline concentration Learning and Instruction.
Jose Luis firmly believes that communities can improve from the point of view of social and academic education. This is why he has been developing programs in STEM to engage the youth of the communities and help them develop their interests in science and technology.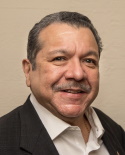 Casimiro D. Rodriguez Sr.
President Emeritus / Founder
(President 2010-2020)
Casimiro was born and raised in WNY. He has lived a lifetime of advocacy for Buffalo's Latino Community in different areas of education, health, social and economic equality. He earned a BA in American Government from University at Buffalo and also studied management from the General Motors Institute. After 34 years of dutiful service he retired from GM.
He is passionate for community progress and envisions what can be accomplished in the future of Buffalo's community built on the strengths of everyone working together for the benefit of all.
Casimiro is driven by social justice where you can find the core of his dedication to today's community and tomorrow's leaders. He is a catalyst for revival and progress bringing people of different faiths and races together for a common goal.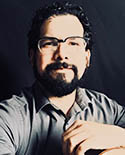 Ricardo Saeb
Ricardo Saeb was born and raised in Chihuahua, Mexico, where he began his music studies and his community service work. As a classical guitarist, Ricardo has performed internationally in Latin America, the Middle East, Europe, and the US. He obtained a Doctorate in Music Performance from the University of Kentucky, and in 2018 moved to Buffalo.
Ricardo believes in the importance of the arts for the betterment of society and is committed to promoting social progress through music, particularly through the guitar.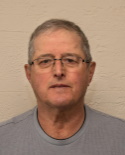 John Sanabria
John Sanabria born and raised in WNY of Spanish Ancestry, a life of community service by being a leader to many community base organizations like Puerto Rican American Community Association [PRACA], known today at Pucho Inc.
Former board member to United Way of Buffalo, Girls and Boys Club, Beechers Boys Club, City of Buffalo Youth Board. He helped establish the structure to merge Puerto Rican Chicano Committee, PRACA, to what today is Hispanics United of Buffalo.
With a spirit of passion for sports and community youth; he was one of the Co Founder's to the Roberto Clemente Baseball League, Latin American Youth Organization serving Buffalo's inner city youth.
He retired from General Motors in 2007 after 35 years of dedicated service, involved with the UAW International Labor Force during 1996 – 2006.
John has been dedicated to Buffalo's Hispanic Community all his life. He lives in North Buffalo with wife Sarah De Leon, they have two children John Jr. and Elena.
Legal Counsel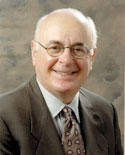 Arnold N. Zelman, Esq.
Arnold Zelman, Esq., an attorney, is of Counsel with Barclay & Damon, LLP which has its offices in Buffalo, & several other major cities in New York. He practices in the areas of business law, counseling, tax & estate planning & has been active in many civic organizations.